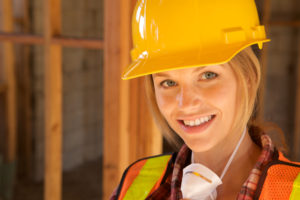 In January, the Associated General Contractors of America reported that Oregon added 7,600 construction jobs in 2016, as a lack of experienced workers kept contractors from hiring as many employees as they would have liked.
"Although the number of states reporting construction employment increases has dwindled, contractors are more upbeat than ever about the construction market and intend to hire more workers this year," said Ken Simonson, chief economist for the association. "However, the shortage of workers is their top concern and nearly three-quarters of contractors say they are having a hard time filling positions."
Careers in the trades – carpenters, electricians, masons, and the like – earn about $15 per hour as a starting salary, which can increase to over $40 per hour. Without the burden of student debt, this can give trades workers a significant economic advantage. However, in Oregon, women make up only six percent of the trade industry. This presents a unique opportunity for women to obtain high-wage careers in trades.
Oregon Tradeswomen, Inc. (OTI) hopes to fill the gap in Oregon tradesworkers with qualified tradeswomen. OTI is a nonprofit dedicated to promoting success for women in the trades through education, leadership, and mentorship. OTI believes that women deserve and can attain economic self-sufficiency through pursuing careers in the building, mechanical, electrical, and utility trades. As of now, OTI consists of 400 members, three programs, and an annual trades career fair for women and girls.
"As the number of women in the trades has increased, it's become more normalized," said Connie Ashbrook, Executive Director of OTI. "Many women and their families now think of it as a choice that's somewhat unusual and something that is a challenge, but that is exciting and also worth celebrating."
OTI has developed several programs designed to inform, educate, train, and equip women interested in trades careers. Of note, the Pathways to Success Program is a free, seven-week, women-only pre-apprenticeship class to prepare women for a career in the trades. For over 20 years, this program has made it possible for Oregon women, many living in poverty, to obtain the highly skilled, high-wage jobs typically occupied by men.
The current Pathways to Success Course began April 4, and continues to May 18.  OTI will also be hosting a Women in Trades Career Fair in Portland on Saturday, May 20; visit www.tradeswomen.net for more information.
By Keely Corder