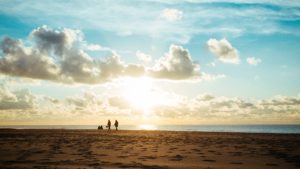 The Ocean Blue Project has been a pillar of the community since founder Richard Arterbury and his son hosted a beach clean-up in Newport in 2012. The event drew so many enthusiastic volunteers that they decided to start a non-profit organization dedicated to environmental conservation through education and service learning projects. Until now, the crew has worked out of a small warehouse where they keep equipment, but as the project expands, so does their need to provide a permanent home for their interns.
"These interns keep doing service learning projects and it's just beautiful; I think they deserve an office. The interns—college students—they're the future…they're going to change the world," said Arterbury.
It's clear how much Arterbury values his interns and their role in the community, many of whom are OSU students.
"We have a huge disconnect—we have the Corvallis community and OSU. They're truly not working together like they could be. To get OSU students meeting people in the community is very valuable," he commented.
One way Ocean Blue is addressing this disconnect is through their Blue Schools initiative. Their goal is to work with the Corvallis School District and educate students on the importance of our watershed and to create opportunities for elementary students to pick up litter. Arterbury added, "They can pledge for their favorite animal they want to save, whether it be an ocean animal or a bird in their backyard."
As Arterbury and his team look for an office, they find themselves drawn towards the Albany area. However, thankfully for Corvallis, the OSU student population is too valuable to Ocean Blue. Arterbury hopes to find an internship office that is within walking distance from the campus, preferably by January 2018. He believes the office will provide more opportunity for interns to gain experience and the chance to prove what they're truly capable of. That said, there's no rush, as they are currently gearing up to plant trees and clean up our rivers and streams.
"There's a lot of negativity with the [current presidential administration] and for good reason, so we're just going to stay positive and focused on outreach, education, and service learning projects. Our goal is to plant a million trees," said Anterbury.
If you're interested in getting involved with the Ocean Blue Project, there's a great opportunity the day after Earth Day. The team will be working with Patagonia to clean up micro plastic at Manzanita Beach. They are particularly excited that the plastic will be upcycled into shampoo bottles. Arterbury would have never dreamed that his first efforts on Nye Beach could have a national impact, but the project just keeps growing.
"The reward outweighs the work, always," he added.
For more information about the Ocean Blue Project or to get involved, visit www.oceanblueproject.org.
By Anika Lautenbach