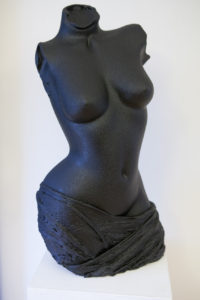 Continuing 2017's trend of fantastic art in Corvallis, this month's Arts Walk will undoubtedly be blowing a few minds with some excellent showings.
Highlights this month include the exhibit and performance from Kaitlyn Wittig Mengüç at the Arts Center written about elsewhere in this issue, and a second chance to see Focus by Caroline Moses on the Fairbanks stair landing (you may remember her debut solo exhibit Check Check Check Check at Artworks), and a selection of works by UK artist Lisa Temple-Cox. Not officially part of the walk, the latter counts as the bittersweet finale for artist Melody Owen's Optic Gallery (5 to 8 p.m., 335 SW Madison Avenue #205).
Up next is OSU assistant professor Kerry Skarbakka's Blackout exhibit at the OSU Center for the Humanities. This show breaks the mold of his primary practice of photography, presenting art objects rendered void by total encapsulating in thick, black industrial truck bed liner. According to the statement, this exhibit "utilizes the significance of the Center for the Humanities and coinciding with the March for Science and Earth Day on April 22, the exhibition provides a message of solidarity against attempts to defund and silence the arts, the sciences, and the humanities."
April's tour-de-art-force continues with the Microbiomes: To See the Unseen exhibit at the Arts Center, a collaboration between science and art that "makes connections between the science of microbiology, and how microorganisms are at the foundation of life." Several heaping handfuls of talented artists from all over the state are involved, including a number of notable locals such as the director of OSU's School of Art and Communication, Lee Ann Garrison; OSU art instructor Michael Boonstra; and Amanda Salov.
As if that wasn't already enough to wear you out, philanthropist and colossal friend of the arts Jordan Schnitzer has lent some of his impressive collection to OSU until May 3. A number of pieces by world-renowned conceptual artist John Baldessari can be found in the Fairbanks Gallery, while elsewhere on campus you'll be able to find work from other notable creators, including Enrique Chagoya, Joe Feddersen, Mildred Howard, and Hung Liu. These works are hung at various cultural centers, which you can find by visiting https://liberalarts.oregonstate.edu/school-arts-and-communication/art/fairbanks-gallery-art/current-exhibition-cultural-conversations. Hours at these locations may vary.
So much art, so little time. Better work on your route!
For you newcomers, the Corvallis Arts Walk generally lasts from 4 until 8 p.m., but do your research as not all venues adhere to this timeframe. And be sure to grab a map and plot your route along these great venues:
• THE ARTS CENTER • 700 SW Madison Ave.
• ART IN THE VALLEY• 209 SW 2nd St.
• STUDIO BEATRICE • 30 NW 6th
• ARTWORKS (CEI Gallery) • 408 SW Monroe Ave.
• UGLY ART ROOM • 4th & Madison
• BISON BISON! • 354 SW Madison Ave.
• KAREN WYSOPAL • 230 SW 3rd St.
• BRITTNEY WEST STUDIO • 340 SW 2nd St.
• THE MAJESTIC THEATRE • 115 SW 2nd St.
• CYRANO'S • 361 SW 2nd St.
• CORVALLIS MULTICULTURAL LITERACY CENTER • 128 SW 9th St.
• FAIRBANKS GALLERY • 220 SW 26th St., Fairbanks Hall
• FRED AMOS ART STUDIO • 340 SW 2nd St., Studio 12
• PEGASUS GALLERY • 341 SW 2nd St.
• VOICES GALLERY • 301 SW 4th St., Ste. 160
By Johnny Beaver
(image courtesy of Kerry Skarbakka)