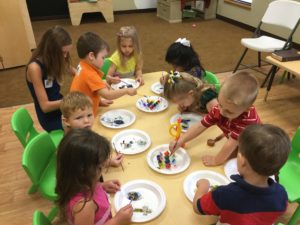 For many parents out there, it's time to start thinking about the first step in their child's educational journey: preschool. Choosing the right spot for your tot can be super overwhelming, especially in Corvallis. It feels like you can't throw a stone without hitting a preschool, which is a good thing. Variety ensures that you'll find the right fit for your little one so they can continue to grow into an awesome and educated adult. Here is a sample of what you can find in your backyard, wherever in Corvallis your backyard happens to be.
Ashbrook Independent School
In 1997, Dave and Cecelia Gore opened their "dream school"—a private space that provides "a rounded, full curriculum; flexible, advanced mathematics; history taught to show cause and effect; early introduction of foreign languages; small class sizes; and the challenging and nurturing of good students." If you value consistency, your child could attend Ashbrook from preschool through eighth grade. Your three or four-year-old has the option to participate for a half day or a full day. The difference: $6,148 or $11,982 per year. That might sound a little steep, but grants are available on a case-by-case basis once your child enters kindergarten. Prices tend to increase the older your child gets.
4045 SW Research Way
Avery House Nature Center
If your child loves nothing more than the great outdoors, Natureplay Preschool is a great option. Year-round, two- to five-year-olds can develop an even deeper love and understanding of the environment while also learning the alphabet. In addition to preschool basics, Avery House offers advanced experiments and nature games, as well as some lessons in sign language. If you'd like your child to learn basic survival skills and get the opportunity to play with their food, "students often bake, eat from the garden, and create edible food art."  At only $22 for each half day, it's on par with some of the more reasonably priced programs in the area. On top of that, they offer scholarships – funding is available through the allocation of Avery House program fees and donations from the community.
1200 SW Avery Park Drive
Corvallis Community Children's Center (CCCC)
Established in 1968, this secular, non-profit organization offers two locations: Growing Oaks Center and Lancaster Center. Respecting the diversity of their students is at the top of the CCCC's list of priorities. In their anti-discrimination statement, they write, "CCCC is an equal opportunity childcare provider and employer dedicated to serving the needs of all children and families, regardless of race, ethnicity, nationality, religion, gender, sexual orientation, socio-economic status, physical or mental ability, or family composition." Their program also emphasizes non-violence and independence. Tuition ranges from $455 a month for two days a week to $865 a month for five days a week. The CCCC works with United Way of Benton County, the City of Corvallis, and the US Department of Agriculture to help subsidize childcare fees and meals for families in need. This can cover 5 to 25% of tuition rates.
Growing Oaks Center is located at 4000 SW Western Boulevard and Lancaster Center is located at 3285 NE Oxford Circle.
Corvallis Montessori School
Montessori schools are a little less traditional, but some argue that their curriculum creates more well-rounded, independent members of society. The teaching method was designed by Dr. Maria Montessori, an Italian educator and physician. Her main principle was that "meaningful work is essential to a child's development." Children learn "practical life skills" like preparing food, washing, and sweeping, but they're also given the opportunity to choose activities based on their interests. It's also conveniently located next to the First Alternative Co-op. There are three primary classrooms at the Corvallis location, with three- to six-year-olds learning and working together. The ratio of children to teachers is a little high, with one teacher and one assistant guide facilitating activities for 25 children. Tuition ranges from $7,200/year for half days and $10,000/year for full days.
2730 NW Greeley Avenue; Montessori schools can also be found in Albany and Philomath
Corvallis Waldorf School
This independent and non-profit school bases its program on curriculum founded by Austrian philosopher Rudolf Steiner in 1919. Their mission is to "educate independent thinkers who meet life with courage and respond with initiative and creativity to the needs of the world and fellow human beings." Waldorf schools emphasize children using their imaginations, learning through experiential education, and ultimately deciding that "the world is good." They discourage the use of electronics and media, which could be exceptionally difficult, but possibly positive. Their program is split into Sweet Peas Preschool for two-year-olds (which costs $5,320 annually for three days a week) and Golden Roses Preschool for three-year-olds (which costs $3,320 to $7,900 per year). If you're looking for a unique approach that encourages all the whimsy bursting from your child's brain, this is a great program.
3855 NW Highway 20
La Flauta Magica Bilingual Preschool
It's often said that that the younger you are, the easier it is to learn a new language. Since 2008, La Flauta Magica has been offering a Spanish immersion program for preschool children. While English is spoken, children are increasingly exposed to Spanish the longer they are there. In addition, they emphasize teaching students about "plants, trees, fruits, seed germination, plant growth and flowering, insect behavior, bird feeding and nesting, frog early development, and the importance of environmental interconnections." Their playtime also includes yoga. There's one caveat: children must be toilet trained. While lots of preschools will work with your child if they're still overcoming their potty-shyness, La Flauta prefers that their students learn this at home. The cost for five half days a week is $485 per month.
2945 NW Circle Boulevard. Although it is in the Unitarian Universalist Church, La Flauta does not include religious studies
Little Beavers Preschool
Founded in 1973, Little Beavers was opened by two OSU graduates: Al and Jan East. This preschool collaborates with organizations in and near the Corvallis community, particularly research projects. One such project is First Step to Success, a study initiated by the Oregon Research Institute. The goal: to assist at-risk children, reinforce positive behavior in all students, and provide the best start to their education. If you'd like your little one to help define the educational landscape in the future, this is a cool opportunity. Little Beavers also puts an emphasis on educating children from a holistic standpoint – one of their core values is "recognizing that students are best understood and supported in the context of family, culture, community, and society." They go on to define culture as ethnicity, racial identity, economic level, family structure, language, and religious and political beliefs. Tuition ranges from $695 to $910 a month.
4940 NW Highway 99.
Old Mill Center for Children and Families
This facility is designed for children with developmental disabilities. However, it's open to all children. For over 35 years, the Old Mill Center has brought diverse groups of children together. The founder, Bev Larson, believed that this approach would nurture acceptance and compassion in children. The Old Mill Center is a full-service provider of preschool, mental health, early intervention and parent support. Their instructors work with special educators and counselors to provide the best care for each child. The location is ideal, with lots of green area for children to explore and nearby parks, a community garden and walking paths. Accredited by the National Association for the Education of Young Children, they focus on experiential learning and inclusion. Choose between two and five days a week for $110 per month per day.
1650 SW 45th Place
More? Much More
A list of every preschool in Corvallis would fill an entire issue, so let's just say there's more where that came from. You can check out Santiam Christian or Zion Lutheran if you'd like religious studies to be a component of your child's education, though it's important to note that Santiam Christian is far more conservative than other options, reserving the right to refuse admission if parents exhibit "sexual immorality, homosexual sexual orientation, or inability to support the moral principles of the school," according to their preschool application.
If you're an OSU employee, you may enjoy the convenience of OSU Beaver Beginnings. Perhaps you would rather educate your child at home, but would like more tools to make that transition? Look no further than Home Schoolhouse for consultations, dyslexia assessment, curriculum planning, and a textbook library.
In Corvallis, you'll have no trouble finding the right school for your child. For most preschools, admission will depend on whether or not the center has open space. If any of the schools on this list jump out at you, the best first step is to call and set up a tour with your little one.
By Anika Lautenbach